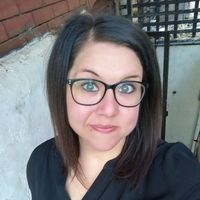 By: Carrie Knott, Revenue Cycle Coordinator
My name is Carrie, and I am an alcoholic. My sobriety date is April 24th, 2018, my sponsor is Mandie S., and this morning when I woke up, I made a deep and personal commitment to stay clean and sober, just for today.
I stumbled into detox at The Healing Place on April 23rd, 2018. My spiritual cup was empty, and my self-worth was completely mangled. I knew that I wanted something different and had a mustard size seed of hope for just that. The Healing Place saved my life and showed me a new way of living that I hadn't experienced before stumbling through the doors.
For many years, I blamed God for every part of my existence in this world. Thanks to working the 12 Steps while at The Healing Place, I was able to gain a strong connection with God as well as inner peace. The Healing Place taught me how to love myself again, forgive myself, let go of the burdens of my past, and finally see the world through clear lenses.
After I completed the program, I became a peer mentor to help other women just like me. Once I completed that commitment, I was able to move back into the "real world". The Healing Place gave me the tools I needed to live a happy, joyous, free, sober life.
In August 2019, I got a job working at the place that changed my life. I am forever grateful for that because I love what I do. Helping clients who are struggling with the same fears that I once did is a gift that no amount of money can replace.
Getting sober isn't an easy process, but the solution is worth it. Thanks to The Healing Place and the 12 Steps, I no longer have to live life full of guilt, shame, and remorse – or feel alone. I have a relationship with my family today, a huge support group to lean on, and on April 30th, I will be running my first sober half marathon.
Not every day is peachy but, with the tools I have today, I know that I can get through anything… and that I can do it sober.